Beehive damaged in Nairn vandal attack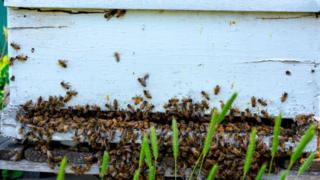 A beehive has been vandalised on farmland near Nairn.
Police believe a metal bar and rocks were used in the attack which was discovered at about 21:00 on Saturday.
Two double beehives were placed on land at Easter Delnies on Friday to assist with the yield from neighbouring fields.
The hives were in use and as a result of the damage the beekeeper and land owner have suffered significant financial loss.
PC Martyn Cameron, of Police Scotland, said: "It is believed that the hive was damaged by a long metal bar as well as rocks being thrown.
"Vandalism is unacceptable no matter what form it takes and creates unnecessary disruption and expense for the victims."