Path repairs to begin on iconic Suilven mountain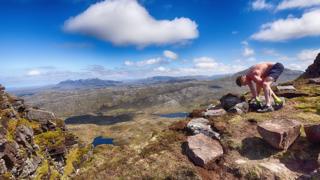 Major repair work is getting under way to fix eroded paths on one of Scotland's best-known mountains.
The £200,000 project will involve a helicopter flying large amounts of stone and gravel on to the high slopes of Suilven in Sutherland.
It comes as the peak braces itself for a rise in visitors after the release later this month of the film Edie.
The movie stars Sheila Hancock as an octogenarian who makes a life-changing decision to climb its remote slopes.
Although not a Munro of 3,000ft or more, Suilven's dominant conical shape makes if one of the most distinct mountains in Scotland.
The new work on the upper slopes follows repairs to the lower stretches of the path last summer.
A team of ten workers will be carrying out the repairs as helicopter drops begin on Monday.
'Magical walk'
The restoration work is being carried out by the John Muir Trust and the Assynt Foundation under the umbrella of the Coigach & Assynt Living Landscape Partnership.
Footpath officer for the John Muir Trust, Chris Goodman, said: "With the film Edie about to be released in cinemas across Britain, we expect to welcome a lot of visitors onto Suilven this summer, so the work is taking place at a fortuitous time.
"Last year's repairs and the work we're starting now will help minimise trampling damage to the vegetation and peat that runs alongside the path."
The fundraising appeal to support the work has been backed by mountaineering legend Sir Chris Bonington.
He said last year an ascent he made of Suilven in 1952 was "the most magical walk I have ever known".