Man fined after trying Elgin trip with shattered windscreen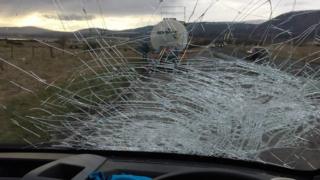 A driver attempted to make an 80 mile (128km) trip from the Highlands to Moray with a damaged windscreen, according to Police Scotland.
Police said the man told officers who stopped him on the A9 the windscreen was struck by an object near Dornoch.
He tried to get it replaced but after being told it would take days to do this continued his journey to Elgin.
Police stopped him near Invergordon, 35 miles (21km) from Dornoch. He had three penalty points added to his licence.
He was also fined £100.