Warning of wintry conditions in Scotland's mountains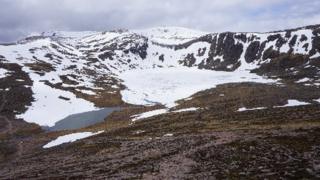 Hillwalkers and climbers planning on a May Bank Holiday trip to Scotland's highest hills and mountains have been warned to expect wintry conditions.
Mountaineering Scotland said there were "substantial" snowfields and snow patches lying across routes popular with outdoors enthusiasts.
It said temperatures have also been "unseasonably" low.
New snow has also been falling on some of the higher mountain tops, including in the Cairngorms and Glen Coe.
Mountaineering Scotland has urged people to take sensible precautions, such as winter walking gear as well as bringing a map and compass, and having the skills to use these navigational tools.
Mountain safety advisor Heather Morning said: "Every year at this time, folk get into difficulties when encountering old snow patches.
"Sadly, a slip and subsequent slide in the wrong place does sometimes result in fatalities."
'T-shirt weather'
She added: "My advice, if you don't have the kit or knowledge to deal with hard snow, is to adjust your plan and enjoy a day out on one of our fabulous lower hills or glens where there is no chance of encountering old snow patches."
Carey Davies, the British Mountaineering Council's hillwalking development officer, said: "It's important to remember there can be a big difference in climatic conditions across different parts of Britain, especially in spring.
"The south of England can have sunny T-shirt weather while the Cairngorms are still in sub-Arctic snow conditions. Even lowland Scotland can be a completely different world to the upper reaches of the Highlands".
"When spring arrives a lot of people feel the pull of the mountains and want to get up high again. But don't forget to check the weather forecast carefully and be prepared for things like snow fields and cornices."