MSP's plea to dog owners after 12 sheep and deer killed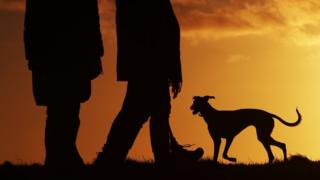 An MSP has appealed to dog owners to take greater care in controlling their pets when walking near livestock.
Kate Forbes' call follows the deaths of 12 sheep and a tame deer in a field in Sutherland.
Police Scotland said the animals' injuries were consistent with an attack by a dog, or dogs.
Ms Forbes said she found it "staggering" some owners were unable to prevent their pets from worrying and attacking livestock.
In January, three pregnant ewes had to be put down after being apparently attacked by dogs on a Moffat farm in Dumfries and Galloway.
The magazine Scottish Farmer has also been running a campaign urging for responsible dog ownership following sheep producers' concerns about sheep worrying.
'Truly gruesome'
Ms Forbes, SNP MSP for Skye, Lochaber and Badenoch, said: "Owners should know that dogs must be on the lead if passing near sheep.
"Every year, there are additional warnings issued by the usual bodies and yet we see story after story about sheep being killed and maimed by dogs.
"The results are truly gruesome, particularly when sheep are pregnant or there are lambs."
Police are investigating the incident near Ardgay, in Sutherland, which involved a rare breed of sheep. The total value of the stock lost was more than £12,000.