CalMac ferry MV Clansman returns to service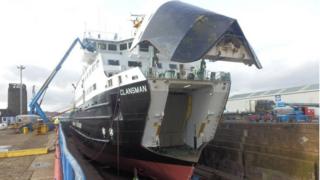 Ferry operator CalMac has said it is moving closer to restoring full services after the completion of repairs to the MV Clansman.
Work on its propulsion system left the company's fleet short of vessels.
An alternative timetable was introduced, with widespread disruption across CalMac's west coast routes.
The Ardrossan-Campeltown was withdrawn "until further notice" because of the ferry shortages, leaving users with a potential 135-mile road journey.
The company has said its full fleet should be available by 23 May.
'Important milestone'
As the Clansman returns to service, the MV Hebrides is to enter dry dock for an overhaul.
CalMac managing director Robbie Drummond said: "Everyone in the company is working hard towards getting a full fleet back in service by May 23 and having the Clansman back is an important milestone towards achieving this.
"In the summer our fleet is fully deployed to meet the specified timetable, which means that there are no spare vessels to provide resilience in the event of a technical breakdown. The impact this loss has had on our communities is of deep regret to us."
The Clansman will have to return to dry dock in June "for a short period" in order to have its tailshaft replaced.
CalMac has promised it will work to minimise the impact on customers.
Work on the MV Clansman was delayed because parts of its propulsion system had to be sent to a specialist firm in Denmark.
The vessel had been out of action since February.