Tallest onshore turbines 'an option' for Lewis site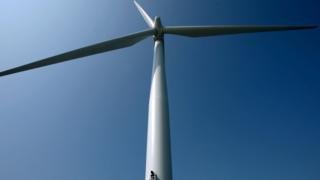 What would be the UK's tallest onshore wind turbines have been suggested as an option for a wind farm on Lewis.
Lewis Wind Power is considering turbines with heights of up to 200m (656ft) at a site at Uisinis.
It is also in the early stages of looking at the potential for turbines of up to 187m (614ft) at a site near Stornoway.
The company said any change to the schemes would require new planning consents and public consultations.
Lewis Wind Power, a joint venture between EDF Renewables and Aberdeen-based Wood, already has planning permission for a 45-turbine wind farm at Uisinis and a 36-turbine at the other site.
The consent is for turbines of up to 150m at Uisinis and 145m at Stornoway.
Using taller turbines would not be unique as other wind farm developers have also been considering installing 200m machines at mainland sites.
'Latest technology'
Lewis Wind Power's two planned wind farms are closely tied to efforts to have a subsea cable laid between the Western Isles and mainland Scotland so power can be exported to the national electricity grid.
For more than 10 years, it has been planned to lay the cable, known as the interconnector, to link renewable energy projects on the islands to the grid.
Will Collins, project manager for Lewis Wind Power, said the company was assessing the potential for using the latest turbine technology.
He said: "If we do decide to proceed with higher tip heights then we would need a fresh planning consent, meaning that all local people and businesses would be consulted on the detail of our plans and have the opportunity to put over their views - positive or negative - to us as the developer and also directly to the Scottish government.
"If we were to move to larger turbines we are likely to use fewer of them, meaning there may not be huge changes to the overall capacity of the two schemes, and thus no real impact on the amount of spare capacity on the grid connection to the mainland.
"The key point remains that without our two schemes there will be no interconnector to the mainland and no further community projects connected to the grid."
'Political support'
Crofters are already opposed to scheme near Stornoway because the site involved is common grazing land. They have taken their case to the Scottish Land Court.
Local campaigner Rhoda MacKenzie has now raised concerns that Lewis Wind Power's new plans would mean the interconnector being just for commercial wind farms.
She said smaller-scale community renewable energy schemes would not be able to also sell power to the mainland electricity grid.
She said: "If the interconnector is going to be used solely for commercial developers then the community cannot stand in favour of it.
"We hope that the Land Court will uphold our objection.
"The other thing that we see as being vitally important is that we get political support from Holyrood to put pressure on EDF to compromise on this development, and get significantly more community benefit than is currently on the table."