Winter wave heights off Scotland rising, say scientists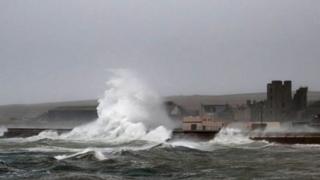 Average winter wave heights along the Atlantic coast of Western Europe have been rising for almost 70 years, according to new research.
The study by UK and French scientists suggests that the coastlines of Scotland and Ireland have seen the largest increases.
The waves have grown by more than 0.7m (2.3ft) in total since 1948.
The researchers said it was important to investigate whether human-induced climate change was responsible.
The new study, accepted for publication in Geophysical Research Letters, a journal of the American Geophysical Union, was conducted by scientists at the National Centre for Scientific Research in France, the University of Bordeaux and the University of Plymouth.
The researchers said said their findings were important for scientists and coastal managers looking to predict future wave heights, and take measures to protect coastal communities.
'Most energetic'
The study used a combination of weather and wave mathematical modelling known as hindcasts, and actual data, to measure changes in wave height and variability on coastlines from Scotland to Portugal.
These were then correlated against two climate indices, the North Atlantic Oscillation, which has long been known to affect climate variability in the Northern Hemisphere, and the West Europe Pressure Anomaly.
According to the study, the results showed that all areas had seen an average rise in winter wave heights during this period, although it varied from 10mm (0.4 inches) per year in Scotland, to 5mm (0.2 inches) per year in France and 1mm (0.04 inches) per year in Portugal.
The same scientists had previously shown that the winter storms of 2013-14 were the most energetic to hit the Atlantic coast of western Europe since records began in 1948.
Gerd Masselink, of the University of Plymouth, said: "Whether extreme winters such as that of 2013-14 will repeat more frequently and/or further intensify in the future is a key issue for the Atlantic coast of western Europe.
"It is therefore important to investigate if these extreme winters are already happening with increasing regularity and intensity, and why this is happening.
"If human-induced climate change is responsible, we need to seriously start thinking about decreasing our vulnerability to extreme storm events and pro-actively adapt to a more energetic future wave climate."
Scotland has experienced huge waves in recent years.
Stormy weather in February 2011 saw waves towering to 15.9m (52ft) being recorded by the Met Office in the sea off Shetland.
In another storm in February 2013, Scotland and Ireland experienced the highest seas anywhere in the world at that time.
Three years ago, ferry operator Caledonian MacBrayne warned extreme weather was increasingly disrupting ferry sailings on Scotland's west coast.