Maternity care in Highlands 'making women reconsider having babies'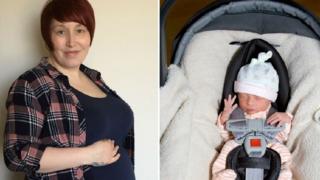 Women who live in the Highlands are thinking twice about having children after changes to maternity services.
That is the claim of the Caithness Health Action Team (CHAT) following last year's downgrading of Caithness General Hospital's maternity service.
Pregnant mums are faced with a 100-mile, three-hour car journey to Raigmore Hospital to give birth.
There is also concern over the safety of lengthy return journeys with newborns in car seats.
Susan Robertson from John O'Groats is due to have her third baby in seven weeks' time.
Because her last pregnancy ended in a C-section, she is automatically considered at risk and ruled out of delivering her baby at Caithness General Hospital's midwife-led unit.
She faces a journey of at least three hours to Raigmore General Hospital in Inverness when she goes into labour, and is more concerned about taking her baby home.
The 38-year-old nurse told the Kaye Adams Programme on BBC Radio Scotland: "It's a terrible stretch of road and takes three hours door-to-door on a good day.
"I'm dreading the trip there and now I am dreading the trip home with the risk to babies and their breathing from being in a car seat for too long.
"I looked into it and the BMJ found that between July 1999 and December 2000, 43 babies needed hospital attention because of breathing difficulties caused by being in a car seat for a long period of time.
"There aren't many places to stop and new mums just need to get home."
Midwife Cass McNamara said: "The risk is the baby's chin falls forward and their airway is obstructed and there was a study that showed even 30 minutes of sitting like that increases the baby's heart rate and decreases the amount of oxygen in its blood."
'Dangerous'
Maria Aitken, from Caithness Health Action Team (CHAT), said: "Last year there were 199 mums who had to travel that horrendous road to give birth in Inverness. Only 18 babies were able to be born in Caithness last year.
"The journey is dangerous, it poses problems the whole time with weather, road closures, deer on the roads - just a month ago we saw a picture of a labouring mum in an ambulance following a snow plough to Inverness.
"Families up here are struggling and they are telling us they are not going to have any more family because the travelling is just too hard. Some tell us they are considering moving away because they feel so vulnerable up here.
"It's not good enough. We want the best start for our Caithness babies and this is not it."
The call for action on maternity arrangements in Wick comes after Falkirk parents Kirsti and Christopher Clark's three-week-old baby girl Harper suffered a seizure due to too much time in a car seat.
The newborn was left foaming at the mouth and stopped breathing when a two-hour journey in a car seat caused oxygen deprivation.
Doctors resuscitated Harper but warned all parents that spending more than one hour in a car seat can cause a baby's oxygen levels to plummet.
A spokesman from NHS Highland said: "Following internal and independent external reviews, the board set up a midwife-led community maternity unit in Caithness General Hospital.
"The reviews were triggered by the avoidable death of a baby in Caithness in 2015. While mothers deemed at 'low risk' will be able to give birth locally, 'high risk' mothers will give birth in Raigmore.
"Any mother who is required to travel any distance will be advised by our midwifery staff around how to transport baby. "
The following advice is provided by NHS Highland in an online Q&A document:
"The issue around baby seats and 30 minutes is not a recommendation. This is very early academic work and nowhere near the level of evidence to support the production of a change on the guidelines. This would have implications for many families (Highland and Argyll & Bute). We offer car seat awareness advice accompanied with a leaflet which was developed by our Advanced Neonatal Nurse Practitioners.
"Parents are advised to bring their car seat in before discharge and the baby will be positioned in the car seat and appropriate head and body positioning is discussed. Advice is also given if taking long journeys to have regular breaks and lifting the baby out of the car seat and, if possible, an adult should travel next to the baby."