Pine marten and osprey face-off caught on camera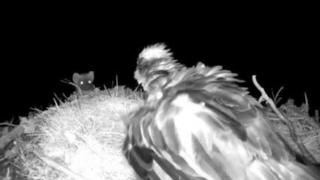 A pine marten has been photographed in a close encounter with a nature reserve's hardiest female osprey.
The marten popped its head over the top of EJ's nest at RSPB Scotland's Loch Garten reserve, near Grantown on Spey in the Cairngorms, early on Saturday.
The image was captured by followers of a webcam at the nest.
EJ, who has returned to the reserve for her 15th breeding season, has previously defended her nest against rival ospreys and a sea eagle.
Sea eagles are heavier and have a much larger wingspan than ospreys.
Saturday morning's close encounter ended EJ scaring off the intruder.
Pine martens are often seen at the nest as they den underneath it in winter.
Following the latest appearance, a spokeswoman for RSPB Scotland: "It sometimes puts in an appearance during the day too.
"So far, EJ has been more than a match for it - long may that continue."
During last year's breeding season, 20-year-old EJ refused to leave her clutch of eggs even after being buried under snow.
She has a new mate this season and has been incubating two eggs.
Pine martens are a cat-sized member of the weasel family.
They feed on small rodents, small birds, eggs, insects and berries.