Search for missing Liam Colgan to widen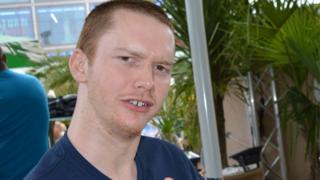 Family and friends of Liam Colgan are planning to broaden their search for the missing Inverness man.
The 29-year-old was on his brother's stag weekend in Hamburg when he vanished early on 10 February.
A group of Mr Colgan's relatives and friends returned to the German city last week but a search of homeless shelters drew a blank.
In a post on Facebook, they said they are now drawing up plans to visit other German cities are part of their hunt.
Mr Colgan was last seen in the Veermaster Bar in Hamburg and he was later seen on CCTV in the Baumwall area.
German police and his family have led high-profile, large-scale searches in the area, without success.
His brother, Eamonn Colgan, has postponed his wedding to his fiancée Susan Dolan while the search for Liam continues.
Earlier this month Eamonn revealed plans to return to Hamburg following reports of two potential sightings of Liam.
However, in an update to the Help Find Liam Colgan Facebook page, they said they had established that one of them was definitely not Liam.
They said: "It has now been 10 weeks since we last saw Liam but we all remain positive and hopeful that we will see him again.
"It was with this hope that last week family and friends returned to Hamburg to investigate two sightings of a person matching Liam's description, including one that provided a photograph.
"Unfortunately, it transpired that the person in the photograph, whilst sharing similar facial characteristics, was not Liam and was in fact a German national."
They added: "The other lead we reported has not yielded any further information on Liam's whereabouts."
They said friends, family and volunteers searched "hundreds" of homeless shelters and drop-in cafes in a bid to find Liam, but nobody had seen him.
"This information now makes us think that it is very possible that Liam is no longer in Hamburg," they said.
"With fresh thinking about his possible location we are drawing up plans for search groups to visit other large German cities to highlight the appeal and widen the search.
"We anticipate that a large group of friends and family will make the trip towards the end of May."
The family have urged anyone who thinks they have spotted Liam to try and speak to him and take a photo, if it is safe to do so.
They have also appealed for any sightings to be reported to Hamburg Police or the Facebook page.