Vote will help choose polar bear cub's name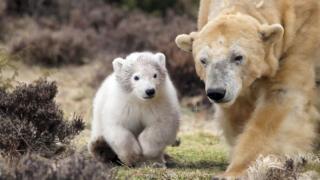 The public has been asked to help choose the name of the first polar bear cub to be born in the UK for 25 years.
The male cub was born at the Highland Wildlife Park, near Kincraig, in December.
The park has chosen four possible names, and is inviting people to vote for their favourite.
The four names featured on the shortlist are Poulsen, MacKinnon, Artor and Hamish.
Else Poulsen was a renowned bear behaviourist, while MacKinnon is the name of a "dedicated supporter" of the park.
Staff said Artor was a Pictish name which directly relates to bears, as well as "a nod" to the cub's father, whose name Arktos means "bear" in Greek.
They said Hamish was "a strong Scottish name that our keepers like. Ideal for a polar bear born in the Highlands?"
The vote is being run on the park's Facebook page.