West Highland Line journey times review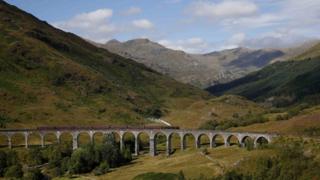 Train journey times from Helensburgh Upper to Fort William, Mallaig and Oban are to be examined by the West Highland Lines Review Group.
The group was set up to help identify improvements to timetables and infrastructure and to promote investment in services.
Its members include Network Rail, ScotRail and public transport body Hitrans.
Transport Minister Humza Yousaf said passengers would welcome the review.
He said: "The West Highland Line is one of our most scenic rail route and provides a vital service to the communities and businesses that lie along its route.
"Building upon the success of other groups, such as the Far North Line Review Team, we are determined to make the most of this important asset for all users, particularly our tourism industry.
"Key to the group's success will be our commitment to building on work carried out so far and strengthening the partnerships that will help drive forward a 21st railway."
'More frequent services'
Hitrans chairman Allan Henderson said the review group would provide "a platform" for the development of the "world famous" West Highland Line.
Hege Hernaes, secretary of West Highland Community Rail Partnership, added: "We have been pressing for a comprehensive line review for some time, and are delighted the minister for transport has been receptive to our reasoning.
"The communities along the West Highland Line are keen to see it realise its full potential.
"More frequent services and an improved travel experience will make it easy for tourists and the local communities to opt for the train."