Hial reports rise in passenger numbers at its airports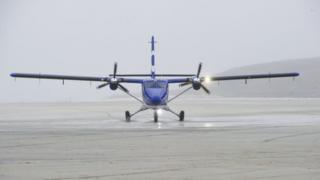 Highlands and Islands Airports Ltd (Hial) has reported a 7.4% increase in passenger numbers in the financial year 2017-18.
A total of 1,780,521 customers used Hial airports between April 2017 and March this year.
This was an increase of 112,098 passengers on the 2016-17 total of 1,658,423.
Hial said it handled more travellers than ever before over the last 12 months.
The Scottish government-owned regional airports company operates 11 airports across Scotland.
It said highlights over 2017-18 included a 17.9% growth in passenger numbers at Sumburgh Airport, a 9.3% year-on-year increase at Barra, 9.1% additional customers at Kirkwall and 8.4% more passengers at Islay.
Inverness Airport's numbers increased by 46,855 to 875,873.
Hial said the rise in passengers was due to the airport's "popularity and increasingly important role as a driver for the Highland region and economy".
It said flights to Heathrow and Amsterdam Schiphol flights had helped to boost the figures.
Operators Loganair and TUI are both introducing new routes from Inverness in the coming months to destinations including Majorca and Bergen.
However, the financial year also saw a !6.8% decline in numbers at Wick John O'Groats, due in part to a continued reduction in demand from energy sector services to and from Aberdeen.
Dundee Airport's passenger numbers decreased by 43.4% due to the loss of the Dundee to Amsterdam route.