Swilling coffee clue to HMS Queen Elizabeth's 'wobble'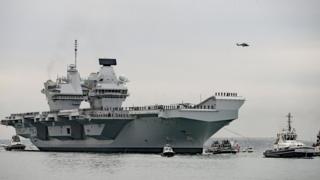 More details have emerged of a problem that forced the Royal Navy's new aircraft carrier to head for a Highlands port for repairs last year.
HMS Queen Elizabeth was being put through sea trials following its construction at Rosyth in Fife.
The carrier was taken into Invergordon after the ship was felt to "wobble" when it was travelling at speed.
Coffee swilling in crew's mugs on the bridge was among the first indications of an issue with a propeller shaft.
Crew members also heard what they described as a "knocking on the shaft".
The problem was found to involve a brake disk on the propeller shaft.
The details have been given in a new BBC documentary series, Britain's Biggest Warship.
Security review
The purpose of last summer's sea trails was to assess the £3bn HMS Queen Elizabeth's performance at sea, and to identify any issues with the operation of the ship which needed to be resolved.
At the time when HMS Queen Elizabeth was brought into Invergordon, contractors said the issue was believed to have been caused by debris becoming caught in the propeller.
The carrier's appearance at the Highland port drew large crowds of people keen to see the warship up close.
Various temporary road restrictions were put in place along the shores of the Cromarty Firth on the instructions of Police Scotland for road safety reasons.
These included a 30mph speed limit and a ban on stopping along stretches of the B9163 Cromarty to Culbokie road.
Unclassified roads and tracks leading to potential viewpoints to the carrier were also closed.
While in Invergordon, the Ministry of Defence was forced to review security in place around the warship after a small drone landed on the deck.
The drone, belonging to an amateur photographer, flew close to the ship before sensing a high wind risk and setting itself down on the carrier.