Mental health project held outdoors completed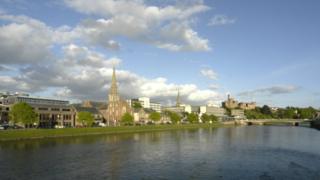 A project that sought to help people to overcome mental health illnesses through activities in the outdoors has been completed in the Highlands.
It was the first time the Scottish Natural Heritage-funded Nature Connections project had been held in the region.
Based in Inverness, it involved participants going on guided walks and learning bushcraft skills.
NHS Highland said further sessions of the project were being planned.
The health board's vocational support service organised the programme of activities.
'Natural beauty'
Vocational support worker Val Stoddart said: "There is clear evidence to suggest being in the great outdoors improves both physical and mental health through enjoyable activities such as walking and woodwork.
"We are lucky to live in such a breath-taking environment and we are able to use the stunning natural beauty of the Highlands to the advantage of our clients.
"The course ran for four weeks with partnership working from Scottish Waterways Trust Inverness and Evanton Community Woods and included educational nature walks, decider skills and mindfulness sessions, woodwork, arts, bush crafts and much more."
She added: "The feedback from those who participated was extremely positive and it was wonderful to watch their confidence grow each week."