Enough snow in Scottish mountains for 'skiing into May'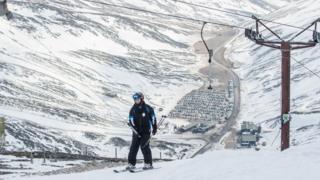 Scotland's latest outdoor snowsports season could continue into next month, says Ski-Scotland.
The organisation, which supports and promotes Scottish snowsports, said more snow had been forecast for mountain areas.
Scotland's mountain centres - The Lecht, Glenshee, Nevis Range, CairnGorm Mountain and Glencoe Mountain - have had frequent snowfalls this season.
In 2010, skiing was still possible at CairnGorm until midsummer in June.
Ski-Scotland said the mountain centres would stay open while conditions lasted and until numbers of customers "dwindled away".
Chairman Andy Meldrum, added: "Once spring does finally arrive with warm sun and daffodils blooming, people seem to believe there's no snow left for skiing or snowboarding.
"However, this really is the best time of year to come for a slide in the mountains with a much better chance of good overhead weather.
"It's also a really good time to learn, when the weather is kinder and slopes quieter."