Visiting suspended at Raigmore Hospital after norovirus outbreak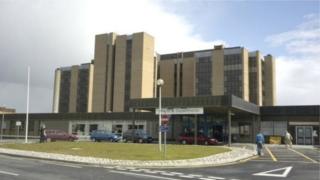 Visiting at Raigmore Hospital in Inverness has been temporarily suspended after an outbreak of norovirus.
So far two wards have been closed to new admissions to help prevent the spread of the diarrhoea and vomiting virus.
NHS Highland said its Infection Prevention and Control Team was monitoring the situation.
It is believed the suspension will be reviewed at the end of the week.
Dr Vanda Plecko, NHS Highland's consultant microbiologist said: "Staff across NHS Highland are working very hard to reduce the risk of these infections spreading across the hospital and we continue to appeal for support from the public to help with this.
"We have now put in place a temporary suspension of visiting for all non-essential visitors to help us protect our patients and reduce, as much as possible, the risk of norovirus spreading across the hospital.
"We are grateful for the support staff across all our hospitals in NHS Highland are receiving from the public at the moment and appreciate everyone's understanding and co-operation at this time."
"If you feel that visiting is essential please contact the ward first by phone before coming to the hospital. Please do not visit the ward unless by prior arrangement with the nurse in charge."