Cairngorms capercaillie project secures funding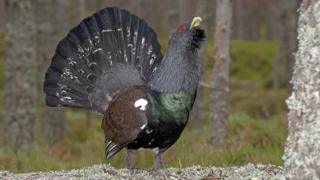 A project set up to boost Scotland's capercaillie population has secured support from the Heritage Lottery Fund.
Habitat loss and birds dying after flying into fences around forestry plantations have been blamed for declines in numbers of the birds.
It has been estimated there are 1,114 individuals, with the Cairngorms being a stronghold for the large grouse.
The Heritage Lottery Fund has awarded £346,500 to the Cairngorms Capercaillie Project.
The funding will go towards the 18-month development phase.
A further £2.25m could potentially be awarded to the delivery phase of the five-year scheme.
Several organisations are involved in the project, including Cairngorms National Park Authority and Forestry Commission Scotland.
The Cairngorms National Park includes parts of the Highlands, Aberdeenshire and Perthshire.