Sepa removes objections to Coul Links golf course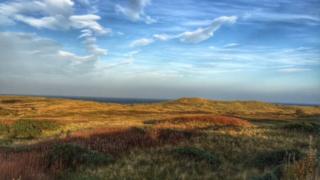 The Scottish Environment Protection Agency has removed its objections to the planned Coul Links golf course.
A planning application has been submitted with Highland Council for the course near Embo in Sutherland.
The developers said the agency had withdrawn its objections after "constructive dialogue" allayed its concerns about the project.
The golf course's developers include US businessmen Mike Keiser and Todd Warnock.
Scottish Natural Heritage and a group of organisations, including RSPB Scotland and National Trust for Scotland, have objected to the proposal.
Part of the course would be on a Site of Special Scientific Interest.
John Kenny, Sepa chief officer, said the agency had previously lodged a series of objections to the proposed golf course.
He said: "With additional information submitted in January and February 2018, Sepa's planning and environment protection officers are satisfied that the requirements set out in its previous response have been addressed, and it has been satisfactorily demonstrated that wetlands, watercourses and groundwater can be adequately protected.
"Sepa is satisfied that, subject to the inclusion of stringent planning conditions being imposed by the council to address waste water drainage and securing the schedule of mitigation, we can remove our previous objection."