The Frost Awakens: Glencoe's Darth Vader snowman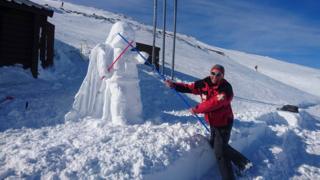 A ski patroller at the Glencoe Mountain snowsports centre has been making the most of the snowy conditions by building a Darth Vader snowman.
Keith Hill built the Star Wars villain earlier this week during what skiers call blue bird conditions; cold, calm and sunny weather with lots of snow.
After constructing his Vader, Keith was spotted by his colleagues having a light saber battle with the snowman.
To quote the villain, Keith's creation was: "Impressive, most impressive".