Wells plugged in decommissioning of Beatrice field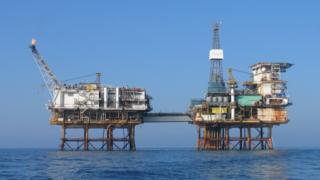 Nine wells have been permanently sealed in the decommissioning of the Beatrice oil field in the Moray Firth.
Thirty-four wells are still to be "plugged and abandoned" as part of the wider clean-up of the field.
The field, about 13 miles (22km) off the Caithness coast, forms part of the site of a massive planned offshore wind farm project.
The decommissioning project involves the removal of five platform structures and power cables.
Two wind turbines installed to show that the firth is suitable for a large-scale offshore wind farm will also be removed.
Defence training
The turbines were installed in two phases with the first in 2006 and the second in 2007.
Repsol Sinopec Resources UK set out its decommissioning project last year. The company said the plugging of the nine wells was completed without incident, and ahead of schedule.
The final removal and recycling of the facilities is planned to be complete by 2029.
The Ministry of Defence had an interest in using the complex as a training facility, but decided not to pursue this idea further.
This decision led to a decommissioning programme approved by the UK government in 2004 being updated and widened out to include the removal of the field's platforms and other structures.