Car parking charges for Sumburgh, Kirkwall and Stornoway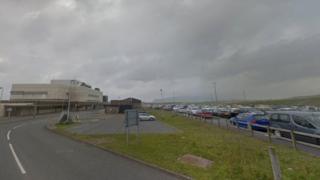 Highlands and Islands Airports Ltd (Hial) is to introduce parking charges this summer at Sumburgh, Kirkwall and Stornoway airports.
Parking for up to 24 hours will cost £3. A free one-hour pick up and drop-off period will be available.
There are already charges in place at two other of the company's sites - Inverness and Dundee.
But the Liberal Democrats have accused the Scottish ministers-owned Hial of imposing "a tax on islanders".
Sumburgh Airport consultative committee chairman Jimmy Smith said he was "furious" that Hial had announced the charges without consulting the public first.
Western Isles local authority, Comhairle nan Eilean Siar, said that while there had been a "huge increase" in cars parking at the airport the £3 charge "seemed high".
Hial said funds generated from the charges would be reinvested to maintain and "ultimately improve" facilities at the airports.
'Plain wrong'
It said a ticket waiver scheme would allow passengers who have to travel to attend medical and hospital appointments to park for free.
Hial's managing director Inglis Lyon said: "Hial is committed to being open and transparent in its operations and our decision to increase charges has been taken in the best interests ensuring long-term sustainability of our airports."
"The new parking charges will raise revenue that will be reinvested into maintaining and continuously developing the airports in years to come.
"Hial airports are required to operate as cost-effectively as possible and we need to develop a sensible, fair and pragmatic funding model that enables us to deliver growth and ensure the vital connectivity to our communities in the Highlands and Islands."
Northern Isles Lib Dem MSPs Tavish Scott and Liam McArthur have raised concerns about the charges at Sumburgh in Shetland and Kirkwall in Orkney.
Mr Scott said: "I deplore this decision and will campaign to stop the introduction of a Hial tax on islanders travelling.
"Next week parliament will debate the Islands Bill. How is the imposition of car parking charges at Sumburgh and Kirkwall consistent with Islands proofing? We will ask government ministers to explain.
"This decision is just plain wrong and I want it stopped."
'Not surprised, but disgusted'
Mr Smith, of Sumburgh Airport consultative committee, said he first learned of the charges when he was shown a press release issued by Hial.
He said of the company's planned introduction of the fees: "I am not surprised, but I am disgusted with the way they have done it."
Uisdean Robertson, the comhairle's transportation and infrastructure chairman, said: "The comhairle is aware that there has been a huge increase in the number of parked cars at Stornoway Airport and recognises the need for something to be done to mitigate the situation.
"However, a flat rate £3 per day, irrespective of whether you're parked for two hours or 24, seems a high charge.
"The one hour drop off/pick up zone is to be welcomed, as is the exemption for those accessing healthcare, but I think the overall scheme could be improved so as to be fairer to the travelling public."
Mr Robertson suggested a period of consultation on the charge.