'Mix-up' in vote on Culloden Battlefield homes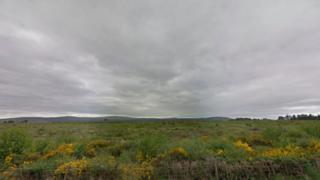 Plans for 16 new homes opposed by a campaign set up to protect Culloden Battlefield are to be brought back before councillors.
Highland Council's south planning applications committee voted five votes to three to approve an amended design and layout of the properties.
But it is understood there was a mix-up in Tuesday's vote.
Conservative councillor Andrew Jarvie has secured a motion of amendment to have the decision reviewed.
The councillor led an attempt at Tuesday's committee meeting to turn down Kirkwood Homes' application for its project at Viewhill, near Inverness. He voted to refuse permission.
Mr Jarvie has been successful in getting the signatures he needs to his motion from fellow councillors.
The matter will be put before a meeting of Highland Council's environment, development and infrastructure committee.
In the meantime no construction work can go-ahead at the site.
Kirkwood Homes is now seeking legal advice.
A spokesman said: "We are consulting a QC over the situation.
"There is plenty of precedent, including in the Scottish Parliament, for a vote result being unable to be challenged by someone who had inadvertently cast the winning vote against their own side.
"Given that we already have Scottish government consent for the development, the whole situation surrounding the design element has become a circus."
'Better reflected'
The proposed housing site is about half a mile from the location of the battle, fought between Jacobite and government forces in April 1746, and is within the battlefield's conservation area.
Campaigners have argued that the fighting took place in a much wider area than what is regarded as the battle's location.
The original application for the 16 homes was submitted by another company, Inverness Properties. It was refused planning permission by Highland Council.
Inverness Properties appealed and planning permission was granted by a Scottish government-appointed planning official in 2014.
Aberdeenshire-based Kirkwood Homes took over the project and recently submitted plans to change the design and layout of the homes.
In January, the south planning applications committee deferred making a decision and asked the developer to redesign the houses in a way that "better reflected" the development's Highlands setting, and the Culloden (Battlefield) Conservation Area.
The revised plans were approved in the vote at Tuesday's meeting of the committee.
Kirkwood Homes said: "We made the changes which were sought, won the vote and now face a bizarre attempt to overturn it via an attempt to muddy the water of what actually happened.
"Highland Council has a clear duty to ensure our application is treated completely fairly and we trust this duty will be fully observed. We reserve the right to act if we feel this is not the case."
The spokesman added: "We have been impeccable in our behaviour in relation to this application and we strongly suspect an attempt to string out the process indefinitely in an inappropriate manner."