Tagged golden eagle 12th to 'disappear' in Monadhliath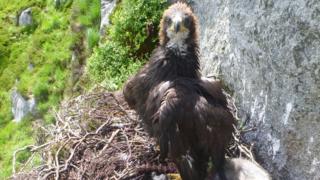 Twelve golden eagles have disappeared in an area of the Highlands RSPB Scotland dubbed a "black hole" for satellite-tagged birds of prey.
Over the last seven years, the raptors' tags have stopped transmitting in an area of moor in the northern Monadhliath Mountains.
The latest disappearance involves a two-year-old male that was paired with a female.
RSPB Scotland believes the lost eagles have been killed illegally.
It said the land involved was "mainly managed for driven grouse shooting", a statement which has angered the Scottish Gamekeepers' Association (SGA) and landowners' body Scottish Land and Estates.
Both organisations urged anyone with information on the illegal killing of birds to contact police.
Searching for mate
The latest eagle to vanish was fitted with a tag sponsored by energy giant SSE before it fledged from a nest in the Cairngorms National Park.
It was paired to a two-year-old female, also fitted with a transmitter. The birds were tagged to help conservationists to track their movements and monitor their behaviour.
RSPB Scotland said data from her tag showed she left the same area for several days following the male's disappearance, possibly searching for her missing mate, before returning to the territory.
She has subsequently been joined in her territory by another young male, a development which the charity said reinforced the case that the other male had disappeared.
The missing male's tag has not transmitted since the middle of December.
Duncan Orr-Ewing, RSPB Scotland's head of species and land management, said the efforts by some landowners, farmers and gamekeepers to protect birds of prey were being undermined by persecution when eagles moved out of safe areas.
He said: "Despite very recent and high level public warnings from Scottish government, it appears that criminals intent on killing golden eagles continue to target these magnificent birds, especially in areas managed for driven grouse shooting.
"Patience with self-regulation is at an end and meaningful deterrents are now urgently required.
"We support the introduction of new measures to licence driven grouse shooting, including powers for the public authorities to remove such licences, where there is good evidence of criminal behaviour."
'Deeply concerned'
A spokesman for SGA said the latest disappearance should be investigated by police.
He said: "If it is proven any harm has come to this bird and if it transpires there is evidence that that harm was the responsibility of an SGA member, they will be subject to our very strict wildlife crime disciplinary code.
"The legal process deserves respect before people automatically jump to apportioning blame.
"It is becoming increasingly impossible to gain full transparency surrounding these incidents when those holding the data are the tag owners who then dictate process and message.
"At the same time, these tag owners are actively lobbying to persuade government to legislate against grouse moors."
Scottish Land and Estates said it had "no hesitation" in urging anyone with information to contact police.
Chairman David Johnstone, added "We are, however, deeply concerned by the assumption by RSPB that this eagle is most likely the victim of a wildlife crime perpetrated on a grouse moor.
"Incidents such as this absolutely do need to be investigated but it is for Police Scotland to lead investigations.
"They have very extensive powers to gather evidence as they see fit, and we would expect all our members to assist them in their inquiries."
Environment secretary Roseanna Cunningham said the Scottish government was determined to protect birds of prey.
'Illegal persecution'
She said: "This golden eagle has disappeared in an area which has long been associated with the illegal persecution of birds of prey.
"We may never discover exactly what has happened in the case of this latest disappearance.
"But we do know the illegal killing of Scotland's magnificent birds of prey continues - primarily in areas which are intensively managed for driven grouse shooting.
"No-one should be in any doubt about my determination to act decisively to uphold the law and protect Scotland's magnificent birds of prey.
Almost a third of golden eagles tracked by satellite have died in suspicious circumstances, according to a report for the Scottish government published last year.
Scottish Natural Heritage was commissioned to investigate the movements of the iconic birds of prey after a spate of disappearances.
It found that 41 of 131 tracked birds disappeared between 2004 and 2016.