Stones collected from homes of sailors lost in Iolaire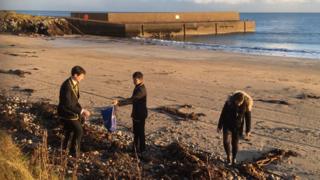 Stones have been collected from the home village of each of the 201 sailors who died in a maritime disaster in the Western Isles.
The naval yacht Iolaire was carrying home hundreds of sailors after the end of World War One.
The vessel was wrecked on a reef called the Beasts of Holm near Stornoway, on Lewis, on 1 January 1919.
The stones will be incorporated into a cairn forming part of a new memorial in Stornoway's Carn Gardens.
The memorial is one of a number planned to remember those who died and also survived the sinking of the Iolaire.
Pupils of Stornoway's The Nicolson Institute, working on the project led by Stornoway Amenity Trust and supported by Stornoway Historical Society, have spent the last few months collecting stones for the cairn.
They are from communities all over the isles of Lewis, Harris and Berneray and also from the home towns of the 20 victims who were not from the Isles - a project which has involved communities across the UK.
The memorial is currently under construction and will be unveiled 23 March by descendants of some of those lost in the disaster.
A procession of 201 pupils from The Nicolson Institute will walk to Carn Gardens where the cairn, an engraving and a bench will be unveiled.