Scottish councils asked about glass panel safety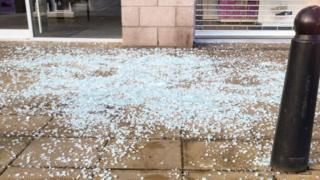 Information has been sought from Scottish councils on any issues they may have encountered with the safety of glass panelled shop fronts.
Highland Council has made the request after glass fell from canopies at two retail parks in Inverness.
In one of the incidents, at the Inverness Centre retail park, a man was injured.
Highland Council said it was not aware of a national problem, but had contacted other councils to check.
It has also asked the owners of businesses in its area that have glazed canopies to make sure "adequate inspection and maintenance arrangements" are in place for the structures.
In November last year, a shopper was injured after a glass panel fell from a shop frontage at the Inverness Centre.
This incident was followed by glass falling at the city's Inshes Retail Park in January. No-one was injured.