Crews tackle wildfires on Isle of Barra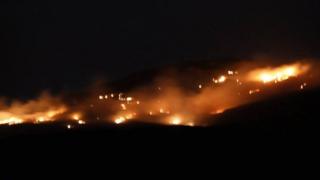 Firefighters have been tackling three wildfires on Barra in the Outer Hebrides.
They were joined by coastguard and RNLI volunteers and members of the public to try to extinguish the flames.
The fires, which were all in close proximity, near Cuithir, were reported at 19:38, 23:15 and 05:40.
A Scottish Fire and Rescue spokesman said a nearby property was evacuated but there was now "no threat to livestock or properties".
He added: "Currently all three fires have been extinguished, but fire services will continue to check the sites through out the day to make sure they don't reignite."
Western Isles MP Angus MacNeil was among those who helped with efforts to put the fires out. He posted a video on Twitter.
He also tweeted: "Spent a couple of hours from 9pm tonight helping Fire Brigade, RNLI Coastguard etc & whoever else who was about, trying to prevent at least mile long front of fire to reach houses at Cuithir Barra ... Firefighters over from Uist too. ... .. Barra tinder dry."