Work begins on dealing with highly toxic liquid at Dounreay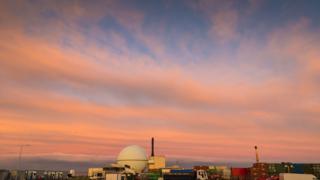 Work has begun on dealing with a highly radioactive liquid that has been stored in tanks at the Dounreay nuclear site, near Thurso, for about 20 years.
The raffinate was produced as a by-product from the operation of the site's Prototype Fast Reactor (PFR).
The work that has started involves turning the liquid into a solid by mixing it with materials including cement, ash and lime.
Before solidifying, the waste will be poured into drums.
Dounreay said the process would create "a solid, passively safe waste package" for long-term storage.
The site's waste director, Sam Usher, said: "With similar liquid waste from two of Dounreay's reactors already made safe, this is the last piece of the jigsaw and probably our highest single remaining hazard."
All the PFR raffinate is expected to be processed within the next five years.
Dounreay, an experimental nuclear power complex dating back to the 1950s, is being decommissioned.