Shiant Islands in the Minch declared rat-free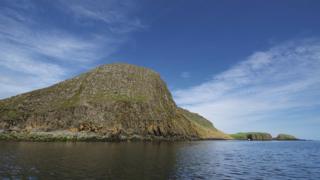 A group of small islands in the Minch have been declared free of rats for the first time in more than a century.
The black rats were not native to the Shiants off Lewis and were thought to be the descendants of rats that came ashore from shipwrecks in the 1900s.
The islands are an important seabird habitat and numbers of some species were in decline, or disappeared, due to rats eating their eggs.
Conservationists said the mammals had not been found for two years.
RSPB Scotland and others have carried out "intensive monitoring" for rats following a four-year project aimed at eradicating them.
Two years is the internationally agreed criterion for rat-free status, the conservationists said.
Dr Charlie Main, senior project manager for the Shiant Isles Recovery Project, said: "This is an absolutely fantastic moment for the Shiant Isles and everyone involved in the project is delighted that they are now officially rat free.
"With so many of Scotland's seabird populations in decline it's vital that we do all we can to help them.
"Making these islands a secure place for them to breed is really important."
Dr Main said it was hoped numbers of seabirds would recover over the next few years.
Andy Douse, Scottish Natural Heritage ornithologist, added: "It's wonderful news that this project has helped to protect the internationally important seabird colony on the Shiant Islands."
Tom Nicolson, of the Nicolson family which owns the islands, said: "Obviously this is a tremendous story of success on so many levels.
"When the idea was presented to us six years ago, the pure logistics of the project seemed hugely ambitious.
"Now, knowing that new species are beginning to thrive on the islands, so soon after the project has finished, there are no limits to what the Shiants could become over the next five, 10, 20 years."
Last year, the calls of storm petrels, a small seabird, were recorded for the first time.
Storm petrels are not found where there are rats, which eat their eggs.