Ideas for a crofters memorial on Skye to be revealed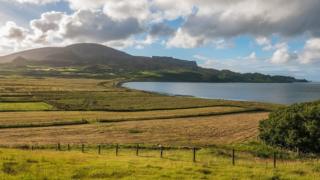 Artists are preparing to present their ideas for a memorial recalling a crofters' uprising on Skye.
People living in Staffin were in dispute with landowners because of rent rises, insecurity of tenure and the eviction of families from land.
The unrest was part of a wider period of land rights struggles in the 19th Century known as the Crofters' War.
Henry Castle and Tom Smith will show their ideas at Staffin Community Hall from 5 to 10 March.
Smith, of design collective Lateral North, and sculptor Castle were selected from more than 40 applications from all over the world.
Lateral North's previous work includes a Scottish exhibition at the Venice International Architectural Biennale last year.
It involved a virtual reality experience of Boreraig on Skye using mobile phones fitted inside mock animal heads.
The project to create a contemporary memorial involves Atlas Arts and Staffin Community Trust.
Castle said: "One of the most rewarding and ultimately productive ways of gathering information and insight into a project is to find it through direct contact with those who have the knowledge, passion and commitment to diverse aspects of the subject you are researching.
"During my visits to Skye I have met many people who have given me their time, and have been very generous in sharing what they know about so many fascinating aspects of the crofters' struggles.
"This has in turn inspired me in the development of my ideas for what a memorial could be."