Liam Colgan disappearance raised at Westminster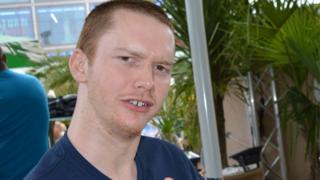 Greater support has been sought from the UK government in the search for a Scot who has been missing for almost two weeks in Germany.
Liam Colgan, from Inverness, disappeared during a party in Hamburg for his brother Eamonn on 10 February.
SNP MP Drew Hendry asked at Westminster what more the government could do for the family.
In reply, Commons leader Andrea Leadsom asked Mr Hendry to contact ministers directly to see what could be done.
Following Mr Colgan's disappearance, the Foreign and Commonwealth said it was assisting Liam's family.
At Westminster, Mr Hendry, MP for Inverness, Nairn, Badenoch and Strathspey, said: "His family is worried that he is injured or is suffering memory loss and they are very concerned about the level of help they are getting.
"They are desperate to find him and they want to bring him home."
Mrs Leadsom said she was "really sorry" to learn of Liam's disappearance.
She said: "It must be an incredibly worrying time for his family and I am quite sure they are desperate to hear news from him."
CCTV images were released on Wednesday showing Liam about an hour after the group had last seen him in the Veermaster Bar.
He was helped up some steps by a passerby at the G&J building in the Baumwall area after a fall.
Further unconfirmed sightings after this in the town of Buxtehude are also being investigated.
Sightings can be reported to: German cell + 49176 65939791 or Lucie Blackman Trust on +441983 718802 or email ops@lbtrust.org.