Skier 'lucky' to survive large avalanche in Glen Coe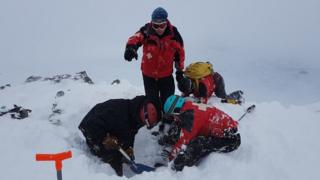 A skier was fortunate to have only been buried up to his neck in an avalanche he triggered in Glen Coe, says one of those involved in his rescue.
He is believed to have ignored warnings not to go into the area and was swept away in a category three avalanche, a slide big enough to bury a car.
The incident happened on Friday near an area called The Spring Paper.
Davy Gunn, who was operating as a ski patroller that day, helped to dig the man free.
Mr Gunn said the skier was not injured in the incident, which could have caused him serious harm and buried him completely, and he was able to ski away from the scene using a safer route.
Drifting snow
The danger area where the man got into difficulty had been roped off and had warning signs due to the potential risk of avalanches.
Mr Gunn said the man was "very lucky" that the avalanche left him hanging on a small rock shelf and he was only buried up to his neck and not under the snow.
After about 40 minutes, the man was able to reach his mobile phone and called a friend who alerted the ski patrol at Glencoe Mountain snowsports centre.
Along with other ski centre staff, Mr Gunn and the other ski patrollers managed to free him from the avalanche debris.
Mr Gunn said all those involved in the rescue effort were relieved that the man had escaped being seriously injured, or been buried completely by drifting snow, making it harder to find him.
A category three avalanche could damage or bury a car, according to the Scottish Avalanche Information Service (SAIS).
There are two categories above a category three avalanche. Four is rated as having the potential to destroy/bury a building or a locomotive, while five could destroy a village or a large forest.
SAIS has recorded more than 140 avalanches in its latest forecasting season. There were 90 recorded in the previous one.