Team hail unsung heroes of rescue in Cairngorms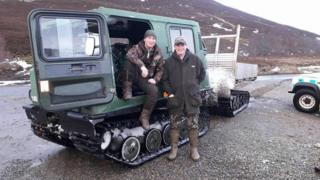 Two estate workers have been thanked for their help in transporting mountain rescuers into a remote location to help find a lost hillwalker on Monday.
The man had spent the night on a high plateau in the hills near Drumochter in the Cairngorms.
Cairngorm Mountain Rescue Team said the he was in a "less than perfect situation" having minimal gear and only able to provide an "inexact location".
The team described the estate workers as the rescue's "unsung heroes".
Donnie Ross and Ben Taylor, of Gaick and Glen Feshie Estates, drove members of Cairngorm and Tayside mountain rescue teams high into snow-covered hills in an all-terrain vehicle in an effort to find the walker.
Cairngorm MRT described the ride as "utterly superb and occasionally terrifying".
The missing man was eventually found after Inverness Coastguard was brought in to assist with the search. The helicopter crew found the man within 20 minutes of arriving in the area.
Cairngorm MRT said: "It was a real team effort, but the unsung heroes of rescues are often people like Donnie and Ben who pull out all the stops, shift mountain rescue guys about the hill and help people in trouble."
The team said workers at the Stronelairg Wind Farm site in Glen Doe, near Fort Augustus, had given similar assistance in the rescue of three men stuck in deep snow last week.