Scotland top for whale and dolphin sightings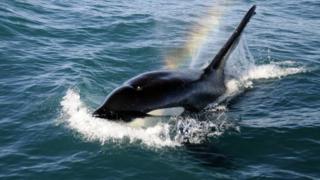 Scotland recorded the highest number of whales and dolphins in last year's National Whale and Dolphin Watch.
The survey is held annually between July and August by the marine conservation charity, the Sea Watch Foundation.
The Scottish figure of 608 sightings of marine mammals represented 43% of all the records made in 2017's watch.
England recorded 555 sightings, Wales had 231, the Channel Islands 11 and the were five reports from the Isle of Man.
No sightings were recorded in Northern Ireland.
The Sea Watch Foundation said that among the highlights of the survey were sightings of long-finned pilot whales in the Moray Firth, and many sightings of orcas in the north of Scotland.
The survey was carried out by volunteers, who spent hours looking for whales and dolphins from the shore and from boats.