Lightning damages historic castle on Isle of Skye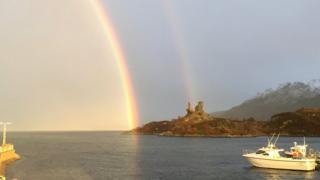 A ruined castle on the Isle of Skye was damaged by a lightning strike during stormy weather last week.
Castle Moil at Kyleakin was a fortification first established by the Vikings before becoming a Mackinnon clan stronghold in the 15th Century.
The lightning strike on 14 February smashed the top off one of the two main standing parts of the ruin.
The stormy conditions continued into the next day, with snow and high winds causing disruption across Scotland.
'Massive fireball'
Before and after images of Castle Moil, also known as Caisteal Maol, were taken by the Reverend Duncan Barwise, who lives near the ruins.
The Church of Scotland minister took photographs of the castle with a double rainbow at about 17:00 on 14 February. The lightning strike occurred about two-and-a-half hours later.
The Rev Barwise saw the strike from his home.
He said: "The remnants of the castle sit on a small headland, just a few hundred metres from our flat.
"At around 19:30 we were looking out the window at the storm, a rare and unnerving combination of lightning, thunder, violent wind and wet snow.
"Suddenly, a sharp, almost deafening crack of thunder coincided with what seemed like a massive fireball."
It that moment, floodlights that illuminate the ruin's walls were extinguished.
The following morning, the Rev Barwise spotted that "iconic peak" of the castle's left wall was gone.
He said: "The castle, first established by the Vikings in the 9th Century, was dealt yet another blow by nature's capricious hand - right before our eyes."