German police criticised over missing Liam Colgan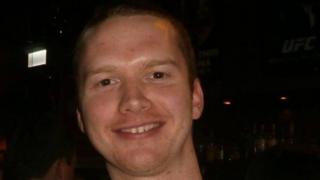 Police in Germany have been criticised over aspects of their investigation into the disappearance of Liam Colgan.
The 29-year-old from Inverness went missing a week ago while on his brother's stag weekend in Hamburg.
Friend Alan Pearson told BBC Breakfast that Hamburg police did not appear to treat Mr Colgan's disappearance seriously when it was first reported.
And he claimed that vital CCTV footage cannot be accessed "because the bar manager has forgotten the password".
Mr Colgan was in Hamburg for a stag weekend ahead of his brother Eamonn's wedding.
After a night out in the Reeperbahn area of the city last Friday he did not return to their youth hostel.
Mr Pearson, who was part of the group in Hamburg, said that was very out-of-character.
"He's not the type of guy who stays out all night partying," he said.
He told the BBC that the initial reaction of the German police to their report of Mr Colgan's disappearance was "not great" and they were "surprised" at some aspects of their investigation.
"I know the family experienced almost mocking replies from one of the police officers at the time," he said.
"The natural assumption is that he could have had too much to drink, he got lifted by the police, something like that.
"But this was at midnight on the Saturday night. Liam hadn't turned up to things that he'd organised.
"And for one of the police officers to jokingly say 'oh yeah, I'll go and jump in a helicopter' wasn't very helpful."
Eamonn Colgan, a police officer in Dundee, has returned to Hamburg in a bid to help find his missing brother.
He has been following up a reported sighting of a man matching his brother's description in the city's Buxtehude area.
The man was described as being in a confused state, and intimated he was from Scotland.
Mr Pearson said Eamonn was using his experience as a police officer to push the hunt for Mr Colgan.
"Eamonn is living and breathing this 24 hours a day," he said.
"With his knowledge as a police officer, he's asking the right questions. He's asking the questions why some of the CCTV hadn't been reviewed until Thursday this week.
"We understand that the CCTV from the bar can't be reviewed because the manager can't remember the password.
"So he is trying to force the issue with some of these things and make sure the right lines of inquiry are being taken."
He said Eamonn's wedding was not even a "consideration" while his brother remained missing.
"Their main priority is to find Liam and bring him home safely," Mr Pearson said.
"If they can find Liam - and let's hope they can in time for the wedding in two weeks - that would be one of the greatest parties ever."