Final approval for Inverness police control room closure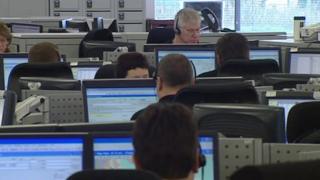 Final approval has been given for the closure of Police Scotland's Inverness control room and service centre.
Control room functions will transfer to the North Area Control Room in Dundee and call handling to the Police Scotland Service Centre on Tuesday.
The workers involved at the Inverness sites have been offered roles in a new National Database Enquiry Unit in the city.
The unit will also involve police staff based in Govan in Glasgow.
Police Scotland has been planning the closure of the Inverness control room and service centre since 2016.
A control room in Aberdeen closed last year and its functions were transferred to Dundee.
Police call handling centres elsewhere in Scotland have also closed.
'Major incidents'
The Police Scotland Service Centre (PSSC) is at Bilston Glen, near Edinburgh.
Police Scotland's Deputy Chief Constable Designate Iain Livingstone has given final approval for the transfer of the Inverness-based functions.
He said: "Currently Highland and Islands Division is the only policing division awaiting transition to the national command and control structure.
"At this time 95% of all 101 and 999 calls made in Scotland are answered in the PSSC. Following this transition all calls will be answered in the PSSC.
"This means for the first time since the creation of Police Scotland, the whole country will be covered by a single police command and control system enabling a more effective response to critical and major incidents."