Mànran tune recalls battle fought 373 years ago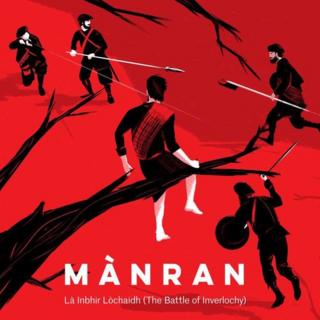 A Scottish band's version of a Gaelic bard's description of a battle fought 373 years ago is to be performed at Celtic Connections.
Royalists defeated a Covenanters army at the Battle of Inverlochy, near Fort William, on 2 February in 1645.
Mànran will perform their version of poet Iain Lom's Là Inbhir Lòchaidh at the Glasgow festival on Sunday.
The band's Ewen Henderson said they thought it fitting to recall Lom's work so close to date of the battle.
He said: "Fundamentally, we chose to record and release Là Inbhir Lòchaidh because it's a great song and a fantastic example of Gaelic bàrdachd - poetry - from the 17th Century - a time when Gaelic poetry was very strong and the system of the clan chiefs' patronage of the arts was still very much to the fore.
"Iain Lom, to me, seemed to have a special knack for marrying fine detail with colourful, exciting imagery and a musical flow."
He added: "With our Celtic Connections headline show falling near to the anniversary of the battle itself we were presented with a great opportunity to bring this era of Scottish history into the public eye."
'So vividly'
Henderson and fellow band member, Gary Innes, have a personal connection to the battlefield and the site of an earlier battle, The First Battle of Inverlochy, which was fought in January 1431.
Glasgow-based Mànran's vocalist and piper said: "We both grew up in the Lochaber area and would pass the site of the battlefield on a near daily basis without any knowledge of the hugely significant deeds of the past that had occurred therein.
"I recall being forced to study Iain Lom's Là Inbhir Lòchaidh in a high school Gaelic class and couldn't believe that this famous battle - so vividly brought to life by his words - had happened more or less outside the window and we previously hadn't known a thing about it."
Henderson said he hoped Sunday's live performance and release of the band's recording of the music would encourage people to find out more about the battle, and the history on their own doorstep.
The artwork for Mànran's version has been created by Glasgow-based graphic designer Gordon Beveridge.
Historians regard the 1645 battle as significant due to it being one of Royalist commander Marquis of Montrose's greatest victories.
His army had completed a 36-mile march in 36 hours before launching its attack.
The Covenanters were said to have lost 1,500 men in the fighting, while it was claimed the Royalist casualties were in single figures though historians believe the number to have been higher.