Call to repopulate Scotland's cleared land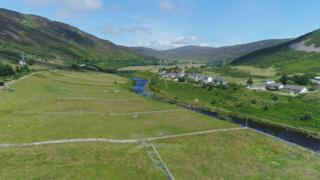 New powers are being sought to reverse the impact of the clearances in Scotland.
Communities were cleared from land where generations had lived in areas including the Lowlands and Highlands in the 18th and 19th centuries.
The landowners turned this land over to sheep farming or deer stalking.
Community Land Scotland wants to see the land repopulated and for nearby remaining communities to be given greater powers to be able to do that.
The suggested powers include compulsory purchase of areas that have been designated for resettlement.
Community Land Scotland, which represents community landowners, also wants Scotland's "no-longer existing communities" to be mapped, in a similar way as areas of "wild land" are mapped to protect them from development.
The organisation has sought to have the Planning Bill currently before the Scottish Parliament to be amended to give government ministers and communities the new powers.
'Living landscape'
A Community Land Scotland spokesman said: "A lot of time has been spent mapping so-called wild land and some now needs spent mapping Scotland's lost heritage as part of thinking about our future development.
"It is all about finding more balance in the arguments about landscape and the opportunity to have a more living landscape in which people are an integral part."
The Scottish government said it was committed to empowering communities.
A spokesman said: "We have committed to introduce legislation for compulsory sale orders during this parliament.
"These powers need to be effective to tackle the blight of abandoned buildings and small plots of land in town centres and communities but also adequately protect the rights of owners.
"It is currently anticipated the legislation will be introduced during 2018-19."
During the clearances, people who had lived on the land for generations left voluntarily, while others were forcibly evicted and their homes burned and demolished.
Families were moved off of inland areas where they had raised cattle for generations to coastal fringes of large estates, or abroad to territories in Canada, where for some their hardships continued.
One group of people cleared from land in Sutherland in the 1800s had to walk 100 miles (161kms) to a colony in wintry conditions in handmade snowshoes.
They were eventually settled in the Red River colony.
The clearances were followed by what was known as the Crofters' War, a dispute between landowners and communities distressed by high rents, their lack of rights to land, or facing eviction to make way for large-scale farming operations.
Like the clearances before it, the "war" was marked by violent clashes between people facing eviction and landowners and the authorities.
Recent years have seen some repopulation of cleared land.
Last year, a community group secured all of the funding it needed to buy 3,000 acres of crofting townships near Helmsdale in Sutherland.
Some of those involved in the buy-out are descendants of people who were cleared from the area.
Helmsdale is home to The Emigrants statue which was commissioned to remember the Highland Clearances.