Iolaire disaster centre proposed for Stornoway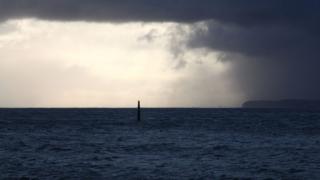 A businessman has proposed building a £5m visitor centre to remember a maritime disaster in the Western Isles.
More than 200 men died when the naval yacht Iolaire was wrecked on a reef called the Beasts of Holm, off Lewis, in the early hours of 1 January 1919.
Businessman Stewart Graham started his Inverness-based Gael Force Group as a small creel-making firm in Stornoway on Lewis in the 1980s.
He has suggested constructing the centre at Stornoway's Number One pier.
Mr Graham said the proposal was at an early stage and would be open to public consultation later this year.
The Iolaire was carrying home hundreds of sailors after the end of World War One.
Making its final approach into Stornoway harbour on a dark night and in a strong gale, it changed course at the wrong point.
With the lights of the harbour in sight, the ship struck rocks at full speed and immediately began to tilt, filling up with water.
Although the stern of the boat was at one point just six metres (20ft) from land, many of the men onboard were weighed down by their heavy uniforms and were unable to swim ashore.
New music
A public inquiry was unable to establish the reasons for the disaster.
Most of those who died were from Lewis or Harris, but many communities across the Western Isles were affected.
A number of events are to be held on the islands to mark next year's centenary.
New pieces of Gaelic music have also been commissioned.
Artists involved in the music project include BBC Radio 2 Folk Award winner Julie Fowlis and violinist and composer Duncan Chisholm.
Lewis-born piper and composer Iain Morrison, whose great-grandfather was among those who drowned, is also involved.
The music has been commissioned by World War One centenary arts project 14-18 NOW and Lewis arts venue An Lanntair.