Scottish Affairs Committee to examine delivery charges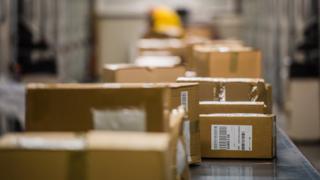 Westminster's Scottish Affairs Committee is to examine delivery charges in Scotland.
The committee said customers in the Highlands and Islands were paying as much as £18.60 per delivery.
Representatives from online retailers and delivery companies will face questions on their charges during the session on 27 February.
High prices have been challenged in the Scottish Parliament, including by Moray SNP MSP Richard Lochhead.
He compiled a list of 124 firms setting "unfair" delivery charges for Scotland based on 401 complaints received from members of the public.
Among the complaints were reports that some companies had promised free delivery but later charged an additional fee while others classed Scotland as not being part of mainland UK.
Mr Lochead has asked the Advertising Standards Authority and Trading Standards Scotland to investigate.
'Lengthy delivery times'
The Scottish Affairs Committee has set up an online forum to gather information from the public on delivery charges.
Committee chairman, SNP MP Pete Wishart, said: "High charges and lengthy delivery times are yet another thing that makes it just that little bit harder for people and businesses outside the major population centres in Scotland.
"If you are paying £15 more to get something delivered and having to wait three more days to receive it then it makes a real difference to whether your business is competitive or not.
"We have launched this inquiry to understand how there can be such a disparity in service between different areas of the UK."
Moray Conservative MP Douglas Ross said he had requested an inquiry by MPs into delivery charges, and added that it was "important to keep up the cross-party campaign" on the issue.
Mr Lochhead said the committee response to public concerns was a "welcome development".
He said: "Companies need to explain why they pursue such clearly misleading policies and promotions - and the more pressure we can continue to put on the worst offenders, the better - but the UK government must also begin taking action."
The MSP added: "I'm pleased Amazon have offered to work with me to address the issues highlighted by my Fair Delivery Charges campaign and I warmly welcome this constructive and understanding approach."