Study begins into Western Isles ferry services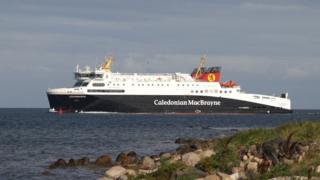 A study looking at the future of ferry services for the Western Isles has begun.
It is looking at potential improvements such as new timetables, buying new boats, redeploying existing ferries to other routes and upgrading harbours.
Consultants commissioned by Transport Scotland will seek feedback from island communities who rely on the services and also visitors to the isles.
A report on the study will be published next year.
The Scottish government said its Vessel Replacement and Deployment Plan had identified the Western Isles as a priority area.
The islands' services form part of the Clyde and Hebrides ferries network operated by Caledonian MacBrayne.
Minister for Transport and the Islands Humza Yousaf announced the launch of the new study.
He said: "Our ferry services play a crucial role for the communities of the Clyde and Hebrides and we want to progressively renew the fleet operating on these routes and ensure the provision of suitable services to meet the needs of island communities and businesses, in line with available funding.
"This study will look at potential options for the future of the network serving the Outer Hebrides, including potentially adapting timetables, procuring new vessels, redeploying some of the existing ferries and upgrading harbours."