Drivers ignoring lights and speed limit on Cromarty Bridge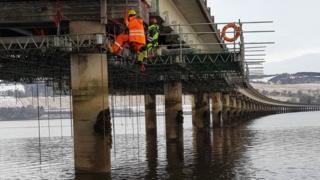 The safety of workers repairing a Highlands road bridge is being put at risk by the actions of some drivers, according to police and Bear Scotland.
There have been "regular instances" of drivers not stopping for red traffic lights and speeding on the A9's Cromarty Bridge, near Dingwall.
Trunk roads maintenance company Bear Scotland is carrying out £1.5m of repairs and improvements to the bridge.
Lights and a 30mph speed limit are in place through the roadworks.
The work on the crossing's deck and supports began in August last year.
Police Scotland road policing inspector, Neil Lumsden, said traffic management measures were in place to ensure the safety of workers, and motorists.
He said: "A small minority of motorists have chosen to ignore temporary speed restrictions and red traffic lights and I would like to remind the public that we will continue to work closely with Bear Scotland to ensure the site is safe for all road users.
"Regular marked and unmarked patrols and checks will be carried out to deter this type of behaviour and motorists caught breaking the law will be robustly dealt with."