Building work dust affects Raigmore Hospital theatres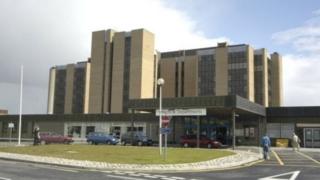 A number of operations at Raigmore Hospital have been postponed since Friday after dust from construction work contaminated the theatres.
The theatres had been undergoing an upgrade as part of a multi-million pound refurbishment of the hospital.
A deep clean has taken place but NHS Highland said further cleaning had been necessary at the Inverness hospital.
The health board said it wanted to apologise to patients whose elective operations had been postponed.
It said the contamination involved a "low level" of dust on the floors of theatres.
Katherine Sutton, deputy director of operations at, said: "Construction work as part of the theatre upgrade has resulted in an increased level of dust being tracked into the theatre block.
"We are confident that the measures we are putting in place including enhanced cleaning and a review of all theatre protocols will ensure that we will soon be able to return to normal operating at Raigmore.
"These measures have been put in place to ensure that there is no risk to patient safety."
She added: "I would like to apologise to our patients for the inconvenience that this will have caused them and to assure them that we plan to re-book their procedures as soon as possible."