Decision on Culloden Battlefield row homes deferred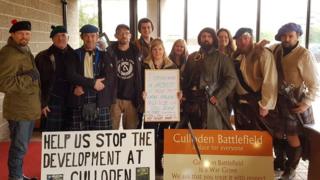 Councillors have deferred making a decision on a housing development opposed by campaigners concerned about its impact on Culloden Battlefield.
Inverness Properties secured planning permission in 2014 for 16 homes at Viewhill, near Inverness.
The site, which is on land campaigners say is associated with the battle, has now been taken over by Aberdeenshire-based Kirkwood Homes.
Councillors were asked to approve a new design and layout of the homes.
However, they deferred making a decision at a meeting of Highland Council's south planning applications committee.
Councillors said the deferral would give Kirkwood Homes an opportunity to redesign the houses in a way that "better reflected" the development's Highlands setting, and the Culloden (Battlefield) Conservation Area.
The site is within the boundary of the conservation area.
Council planning officers had made the recommendation to approve the plans.
'Positive step'
A protest was held at Highland Council's headquarters in Inverness ahead of Tuesday's meeting.
Almost 75,000 people have signed an online petition opposing the development.
The site is about half a mile from the location of the battle between Jacobite and government forces.
However, opponents of the plans argue that the government lines extended to Viewhill.
Before the meeting, Kirkwood Homes said it was "positive step forward" for its Cairnfields development that council planning officers had recommended councillors approve the project's design and layout.
A spokeswoman for the company said: "The principle of development on the site has been long established on what was a brownfield site, which previously had large farm buildings on it.
"We have complied fully with all planning processes and regulations throughout and will continue to do so."
'Ambience of battlefield'
He added: "Since announcing our proposed plans we have had very strong interest in the development and we look forward to releasing it for sale once official approval has been received.
"The new development will bring new employment opportunities to the area as well as more housing options to Inverness."
Highland councillors had refused Inverness Properties planning permission.
But, following an appeal by the developer, a Scottish government-appointed planning official granted permission with conditions in January 2014.
The reporter agreed with Historic Scotland, now Historic Environment Scotland, that it was unlikely that the proposal would have "any impact on the character and ambience of the battlefield".
Fought on 16 April 1746, Prince Charles Edward Stuart and his Jacobite force were defeated at Culloden by a government army led by the Duke of Cumberland.