Avalanche debris on Ben Nevis searched for walker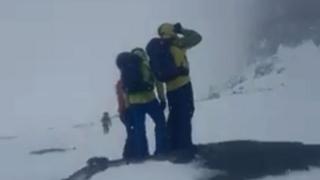 Avalanche debris has been searched for a hillwalker who fell close to the summit of Ben Nevis a week ago.
The man fell through a cornice, an overhanging ledge of snow, into Observatory Gully below on Sunday 21 January.
Rescuers were able reach two other men who were with him, but bad weather and avalanches on the day and since have limited searches for the missing man.
Two search dogs formed part of the latest effort to trace him.
No sign of the man was found.
Members of Lochaber Mountain Rescue Team, who have been checking Observatory Gully whenever conditions have allowed, led the new search at the weekend.
The dogs and their handlers from the Search and Rescue Dog Association Scotland assisted in the search of the debris, large blocks of snow and ice from avalanches.
Lochaber MRT said some of the blocks involved were the size of household fridges, and in some places the debris was of a depth of up 15m (49ft).