Councillors approve Lochaber alloy wheels factory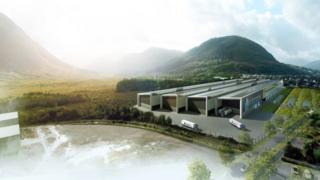 Highland councillors have approved plans for an alloy car wheels factory near Fort William.
GFG Alliance has proposed the factory as part of an expansion of its Lochaber Smelter and could start producing in 2020.
Highland Council planning officers had recommended that the local authority's south planning applications committee granted permission.
GFG company Liberty British Aluminium would manufacture the wheels.
The new factory would create hundreds of jobs and be developed as part of a £120m investment by GFG in the smelter site.
Aluminium from the Lochaber Smelter would be used to manufacture up to two million wheels a year for the UK car industry.
The site would supply at least one fifth of all the wheels required by UK vehicle manufacturers.
Among the council officers' suggested planning conditions is that archaeologists monitor the construction of the factory.
The plant has been proposed for land where the two battles of Inverlochy were fought in 1431 and 1645.
GFG has said it was aware of the historic importance of the site.
Sanjeev Gupta, executive chairman of GFG, has welcomed the councillors' approval of the factory plans.
He said: "Our plans for Fort William will not only transform the economic prospects of the area but also create the UK's only large scale alloy wheel plant, a major step forward in Britain's manufacturing capabilities.
"We plan to invest heavily in research and development to develop a world class product, made in the Scottish Highlands.
"We look forward to continuing to work with these bodies to fulfil the conditions set out in the planning consent and then to move ahead quickly with the building of the plant."
GFG also said the Lochaber Delivery Group, an organisation set up by the company, the Scottish government and local and regional bodies, was working "to address" challenges in the surrounding area such as a lack of housing, infrastructure and local services.
Highland Council's Lochaber leader, Councillor Andrew Baxter, said: "This is a once-in-a-generation opportunity and Liberty Group should be applauded for this contribution to the economy and community.
"Up to 400 direct jobs will be created at the facility which will also help secure the existing 170 jobs at the smelter."