Toilet found dumped in Glen Coe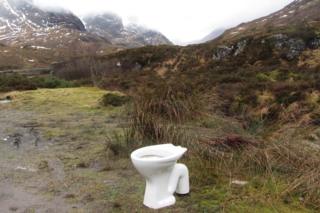 An avalanche forecasting team found a toilet dumped in Glen Coe a year after a fellow team came across a similar fly-tipping incident on its patch.
Flagging up the fly-tipping, the Scottish Avalanche Information Service Team Glencoe joked SAIS Creag Meagaidh must have "strayed into the area".
Last January, another toilet was offloaded at the Creag Meagaidh reserve, north east of Fort William.
A hillwalker contacted SAIS to say he had dealt with the fly-tipping.
The Glen Coe toilet was spotted by the local SAIS team on Sunday.
Glen Coe and Creag Meagaidh are among six areas SAIS assesses for avalanche hazards every winter.
The other areas are Torridon, Lochaber, Southern Cairngorms and Northern Cairngorms.
Smashed windows
Sixty-one avalanches have been recorded by the service so far in its latest forecasting season. There were 90 recorded last season.
Heavy snowfalls and freezing conditions followed by a rapid thaw and strong winds had raised the risk of avalanche in Scotland's hills in the past week.
On Saturday in Southern Cairngorms a gust of 100mph was recorded at Cairnwell, a 933m (3,061ft) Munro.
SAIS Southern Cairngorms said winds had gusted strong enough at lower levels to pick up stones that smash and crack windows of car parked in a car park used by walkers to access the mountain.