Dunging the maths: How to count elusive mountain hares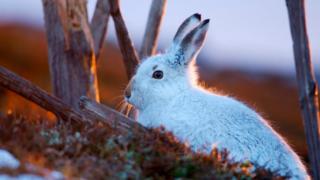 They are Britain's only native hare and may have been here since the Ice Age.
But mountain hares are elusive and often hard to spot and even more tricky to count.
Now new research from Scottish Natural Heritage (SNH) may have found the answer - and it involves dung and using spotlights at night - quite literally catching a rabbit (sorry, hare) in the headlights.
SNH said gathering accurate information on mountain hares was important because it allowed their numbers to be "effectively monitored and managed".
The report said: "Despite the importance of mountain hares for both shooting and conservation, little is known about their numbers or how to ensure their sustainable management."
The scientific study was carried out in partnership with the James Hutton Institute and the Game & Wildlife Conservation Trust.
It looked at and compared a range of methods which could be used to record mountain hare numbers - including capture and recapture, direct counts - during daylight, and with lamps at night, thermal imaging and dung surveys.
Eileen Stuart, SNH's Head of Policy & Advice, said: "Many people enjoy seeing mountain hares in the Scottish hills. Our priority is to make sure mountain hares remain a common sight. To do that, we need a better understanding of the existing population - something which this report will make possible."
The study was carried out between 2014 and 2016 at a total of ten sites in Perth and Kinross, Aberdeenshire, Moray and the Highlands.
The research concluded two methods were the most effective, reliable and cost-effective for estimating hare populations:
Systematically counting hares at night using a spotlight
Measuring dung accumulation (counting the pellets) over four to six months during the winter
Ms Stuart added: "We hope that the counting methods recommended in the report will be adopted by those who manage land around Scotland, and the information made available to us.
"This will give us a better picture of mountain hare numbers, both regionally and nationally and support local decisions about how to maintain and conserve our native hare population."
SNH said mountain hare numbers fluctuate widely between years, and between regions, but the information currently available suggests the Scottish population is stable.
And the animals are not always able to shy away from the headlights, or cameras.
Last winter, one hare found itself with nowhere to hide after being spotted in its white winter coat on the snowless mountains of the Cairngorms.
The hares change colour from brown to white to better camouflage themselves against wintry conditions.
Conservationists have previously warned that mountain hare populations in some upland areas face "local extinction".
They have called for a ban on culling until proper safeguards are in place.
Grouse shooting estates have promised "voluntary restraint" to keep hare populations healthy in areas such as the Cairngorms.
Scientists, ecologists and representatives of land managers met earlier this week to review the SNH report's recommendations with the aim of developing and implementing a monitoring programme.
Adam Smith from the Game & Wildlife Conservation Trust said: "Mountain hares benefit from moorland management across Scotland and we want to ensure this continues and understand why the species may be challenged in other places.
"We hope adoption of the new counting techniques that our research has identified will shed further light on the conservation of this species."
Susan Davies, director of conservation at the Scottish Wildlife Trust, said: "This report makes it clear that relatively little is known about mountain hare numbers or how to manage them sustainably.
"Despite this lack of information hares continue to be subjected to unregulated culls, and declines have been reported in local populations.
"Now that there is broad agreement on the most appropriate method of monitoring mountain hare numbers it is vital that that a robust national survey is set up in time for counts to take place this autumn.
"This should inform the legally required assessment of the conservation status of mountain hares under the Habitats Directive."